DJ Software, How Does it Work?
Most people have probably been to a club and have seen the DJs mix music in real time. If any of you ever wondered how does DJ software work, this article will offer you a bit of insight.
To begin with, you probably noticed that the music DJs play in clubs is not original. It is mostly made up of popular tracks which are mixed with each other and sometimes can even shift from one to another and vice versa. This might seem impressive if you think that the DJ is making the mixing in real time, right in front of you, but most of them are just using music mixing software to ease up their job.
Different DJ software is capable of matching the tempos of two separate songs, break them into sections, and mash up those sections while preserving the same pitch. This creates a new song with virtually no human implication. Now we cannot deny that there are DJs, and artists in general, who make their mash-ups. They start from creating their pieces to work with, or cutting those segments of an existing track, and combining two or more of them into one single final piece.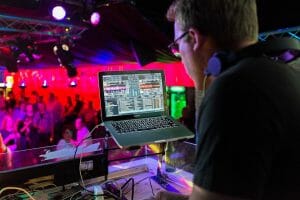 Most DJ software works by the principle of looping. Loop-based music is very popular in the clubbing and DJ industry, as it is very easy to do and creates the impression of live-mixed music. A loop is a short sound or track fragment that is usually rhythmic and very easy to duplicate. They are very popular in the audio engineering industry, as they can be easily combined among them and create brand new tracks, without any real or virtual instruments whatsoever.
Looping has earned a pretty bad reputation over time, as many artists tend to make thousands with whole albums based off looping. If we were to compare it to something else, it would be using stencils to paint the Mona Lisa – it can offer the same result, but the effort put into is will be not nearly the same as sketching, drawing, and painting from scratch. However, for DJ who mix their music live in clubs, looping is a very convenient method. They can also be more or less creative with it, as they can choose to use current loops (from the software itself or purchased from the Internet), or cut their track parts beforehand and mixing them on the spot.
The loops that are found in the software or digital libraries around the web are usually created in studios, using real or virtual instruments, and they recreate short sound passages. Famous choruses or even obscure track parts can be remade into loops so that DJs can mix them with other songs. Besides these longer loops, there are also short ones, which can be anything from human shout sounds, clapping, instrument sound, guitar riffs, drum rhythms, synthesizer patterns or bass lines. DJ's will usually incorporate sounds from these digital libraries into their weekly Saturday mix.
Some of them will put more effort into their job and will take it a step further by creating their loops. Be it that they have a synthesizer or drum machine at home and they can record instrument sounds, or they cut their choice of fragments from different tracks and songs. The DJ is going to have their digital deck with all the loops in it and will come in front of the crowd and mix them live. A digital deck is the equivalent of a normal DJ deck, having different playback tracks that can play different songs at the same time and performing different functions.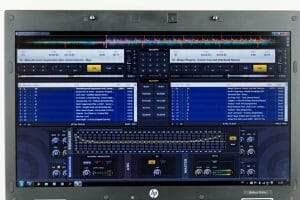 Traktor is a famous DJ software, which has multiple playback decks in which DJ's can drag and drop their tracks, and then switch between them using different controls and onscreen faders. When mixing in Traktor, DJ's can create loops on the spot so they can repeat the same chorus some extra times before switching to something else. Traktor also allows the DJ to use in software effects, such as echoing and superimpose it on the entire mix.
There is also DJ software that can break the songs into several fragments and list them in different accessible categories. Grace to this, the job of the DJ is eased significantly, as they don't have to go through the trouble of cutting the songs themselves. They can used the choruses of famous tracks, even if those are slower or seemingly incompatible with club music, and superimpose them over their rhythmic beat. The people in clubs will usually appreciate this use of popular songs in combination with electronic music, so this feature of the software is useful.
These are the basic aspects of how a DJ software works. Of course, there are much more details about it, but most of the mixes you like to dance to on weekends are probably made by using one or several of the techniques we mentioned here. The software helps the DJ add flare and color to the tracks and loops he uses, thus creating a more or less original piece on the spot. The person mixing has a lot more control over the loops on these virtual decks than on a real one, and can even change the sound of the whole mix using special effect available in the software's library. It also allows them to use even two of the most incompatible songs in combination to create a unique and engaging beat.