DJ Controllers and How They Work
In today's world, everything keeps evolving at a mind-breaking speed. The entertainment industry is no exception. It has experienced one of the biggest developments in the modern history. The music industry is surprising every day the starters and the pro's, offering new possibilities to mix and make music. The DJ world experienced a drastic change with the introduction of DJ controllers. Since their appearance, there have been more people joining the rows of DJs. Why are they so special and how do they work? These are important questions to be answered to open an eye about the DJ world.
DJ controllers allow the user to control a DJ software quickly. Their jogging wheels, knobs, and pads help to gain an easy control of the software and the mix. Their control surface relies on easy methods of manipulating the device's software, unlike laptop's keyboard and mouse. They can be connected to other devices and computers through USB or other specific inputs.
DJ controllers are single units that have a DJ mixer, turntables, and a user-friendly interface. They are ergonomic, because the whole functionality set lies in one unit, while the similar functionality required more gadgets in the old days to function as a DJ controller. They are designed to emulate a traditional DJ setup with turntables and mixer. The single unit is very convenient for its size, practicability, and easy use. It is not required to make any specific connections to make it work because it's set up by default. A DJ controller is a perfect and modern way of having a full DJ set in a single unit, which saves much time and allows to mix much more easier.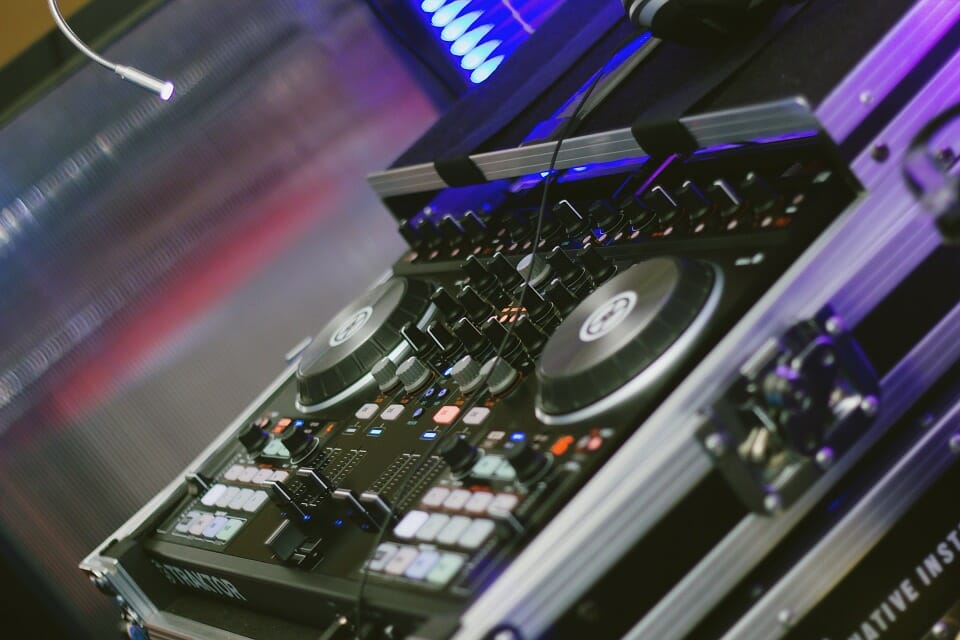 So, How Do They Work?
The traditional DJs used to have diverse vinyl and CD records, to combine them simultaneously on turntables. Nowadays, the tracks are carried in their laptops and drives. During a performance, they have to come up with a genuine and entertaining mix for the crowd. The controller acts as a mediator between human and computer, where the person adjusts and mixes the audio files. The DJ controller gets computer's audio signal and transfers back user's processed actions, which are in their turn sent back to the controller and outputted as the final sound.
DJ controllers try to recreate the old techniques through their jog wheels, which are constructed to feel same as the old-school vinyl. In other words, the controller is like a turntable or CDJ player, but with more functions and a digital nature. The audio file is mapped onto the jog wheels, and with the help of a mixer, the signal is changed from one to another. Not all, but some DJ controllers have built in sound cards that help to listen to the track before releasing it live and output it in the desired quality. Digital DJ controllers are modern versions of original turntables, and they fulfill pretty much the same tasks.
Nowadays, DJ like to rely on their controllers, because they are portable and durable against hits, compared to the conventional DJ setup. Despite that, it is a fragile equipment and damages should be avoided at any cost. Here comes the number of devices. A single DJ controller is much easier to safeguard than more parts, which are all equally important.
When the controllers first appeared on the market, there were problems with latency. It means that there were issues with the recognition between the controller and computer, so the audio files were slowly processed. With time this issue became extinct with modern computers and controllers. There is normal latency between DJ controllers and traditional turntables.
The setup process of a DJ controller is very simple. It goes along these lines:
• Connect them to the power source, in case they need an external one, and turn them on.
• If your controller doesn't need an independent power source, it will run fine on your computer. However, in that case, it would be best to connect your laptop to a power source, do avoid much pressure on the battery. Connect the controller to your computer with a MIDI/USB cable.
• Connect the controller to the sound output.
• Load the audio file on one of the DJ software's jog wheels on your computer and adjust the volume and hit the play button.
Most of the DJ controllers are user-friendly, which makes them very easy to operate for any beginner. They are also convenient portability and full set in one. After a little practice, anybody will be able to control their DJ controller easily.