Do You Need a License to be a DJ?
More and more young people are tempted nowadays to enter the music industry as a DJ. The trade seems fairly easy – all you need to do is learn how to mix tracks and have some elementary knowledge about music. Fame and money seem like immediate and easy to obtain perks, and the DJ profession has become an attractive "easy-money" option. However, this is not always the case. Much like any other occupation, DJ-ing can be done either as a hobby or as a full-time profession. The conditions are different for the two, and the amount of money you earn is also fairly different.
There's also the boring legal stuff you'll have to go through if you think about working as a professional DJ. Making DJ-ing your full-time job will come with both advantages and disadvantages, and is a decision that has to be thought out thoroughly.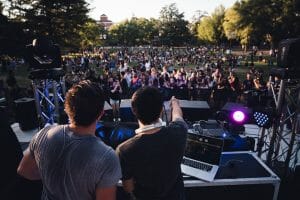 Being a DJ can be extremely profitable, as many people and businesses will often request their service for all sorts of parties, receptions, or whatnot. While some DJs may live on contracts with one or several places, there are also self-employed people, who wait for different clubs or individuals to make them one-time offers. Life is usually sweeter for the self-employed DJs, as the people who require their services will pay much more than the average hourly contract fee. The high demand for music at parties, receptions, weddings and all sorts of other celebrations have raised the DJ hourly fee a lot, and some may snatch even more than $100, depending on their status. However, once you start earning around the average annual salary per country or more, getting a license is mandatory. This applies to several states in the US, and to certain other nations around the world, and the requirements and specifications about having a license may differ a lot.
First of all, it's important to know that there are two main types of licence a DJ might need – the digital licence, which is the kind that offers you the right to play copyrighted music, and business licence, which makes you a business and will tax you according to the state or country's laws.
When it comes to the digital license, you may have certain questions about it. What if you legally purchased the CDs, albums, or singles that you plan to mix? It is perfectly OK to play those in certain countries if you bought them yourself, but in other countries, such as the UK, Finland, Canada, and Italy, to name a few, you have to purchase the so-called digital license which will allow you to play the music for the public. This makes no sense to some people, but it's the equivalent of buying the rights to the songs to play them on your own. The price of getting a digital license may vary depending on the amount of copyrighted material you intend to use.
As far as business license goes, it is best to consult your country or state's law. The requirements will differ depending on how much you earn from DJ-ing – it may be more in some states and less in others. Tennessee is one example – you have to register for a business license as a DJ if you make over $25 000 a year, but anything below that is considered hobby earnings and will not be subject to the taxing law. It also depends on how you get paid – if you're invited to receptions and parties a lot, and tend to receive the payment in cash without any contract, the law has no reason to tax these earnings. However, if you get paid directly into your bank account, by bank transfer or any other type of officially monitored source, you will probably have to get a business license – again, depending on how much you earn per year.
To sum up the answer to "do DJs need a license?", it would be a "depends". It depends on too many factors to be able to give one single answer. The best and most effective way to find out would be to consult your country or state's law for digital license requirements and for minimum yearly income that would require a business license.